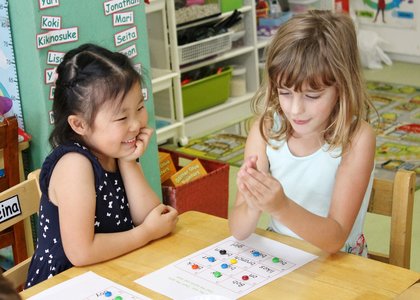 We hold school tours and enrollment guidance appointments upon request for all families interested to get to know more about our program. School tours are held on weekdays from 10:00 to 11:00, and will include a tour of our facilities as well as explanation about our school's curriculum and policies. Your child is welcome to join you on the tour.
Please feel free to call us at 064-259-6440 to make your reservation!
We have two guest parking spots in walking distance; should you be planning to drive here, please let us know and we will provide you with directions.
施設見学のご予約も随時受付しております。 見学は予約制で、平日の10時~11時に行います。当日、施設のご案内、または当園のカリキュラムやポリシーをご説明いたします。 お子様もご一緒に歓迎です。
ご予約はお気軽にスクールオフィス(046-259-6440)までご連絡ください。
徒歩数分離れたところでゲスト用駐車所(2台)がございます。お車でお越しの方はご案内いたしますのでお申し出ください。