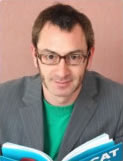 PRINCIPAL
Jesse Reitzin
ジェシー・ライツン
I'm happy to welcome all of you to our school. Our learning environment is fun, informal, progressive and child centered. We are a member of the IPC (International Primary Curriculum) and our approach to early childhood education is forward thinking and respectful of each child's own way of learning. We have an International feel with about one third of our students coming from the U.S. and other countries. This enables us to embrace an international mindset that is becoming the norm these days for many kids whose parents live and work overseas.
Our combined teaching experience and expertise together with our small school feel has enabled us to tailor a program that is geared towards giving kids a sense of personal responsibility, building an awareness and empathy for others and also giving them the freedom to express themselves in their own way.
So, enjoy browsing our website and if you come for a visit one day we'll be sure to see you and say hello. All the best from the CFIS team.